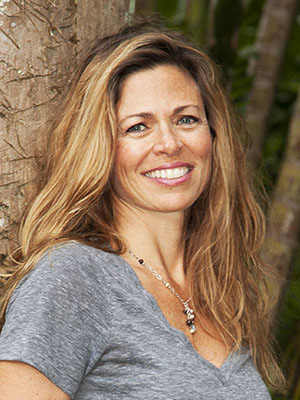 "Invention, harmonious colors, a strong composition, combined with the contrast of light and dark values, is a recipe for a successful painting." says Maui artist Christine Waara.  As an artist, she has been training herself for as long as she can remember to carefully observe the subtle charm of her surroundings bathed in an ever-changing story of light. Her engaging images convey her thoughts, feelings, and imagination.
Inspired by her rainforest home in Maui where she lives with her husband, she likes spending time taking care of her garden, hiking, and being near the ocean. Reflections of nature can be the subject of many of her paintings. Other subjects include people, wildlife, landscapes, and objects of interest.
Christine's work has evolved to include multidisciplinary approaches. Watercolor, oils, pastels, oil pastels, and encaustic all have their own allure. She often has several pieces in process at any given time and sometimes mixes mediums. "Painting allows my head to empty and free itself for new ideas."
Christine has been painting for decades, making it a career once her children were in school. She has been trained as a representational artist by hand-selected teachers. She continues to broaden her style through experimentation, workshops, and by painting, painting, and painting. When she's not painting, she's usually outside collecting more inspiration.
---
Christine is a national award winning artist whose work has been exhibited locally in Art Maui, Hui Noʻeau Visual Arts Center, the Schaefer Portrait Challenge, and is in the permanent collection of the Hawaiʻi State Foundation on Culture and the Arts.  She was an instructor at the University of Rochester's Creative Workshop at the Memorial Art Gallery and has conducted workshops and classes for people of all ages. A former signature member of the Rochester Art Club, Niagara Frontier Watercolor Society, and Penfield Art Club, she has received many awards for her watercolors and pastels. She currently exhibits her work at Maui Hands galleries, The Gallery at Picture It Framed, and online at christinewaara.com. Her art is held in many institutional and individual collections nationwide speaking to her ability to inspire and connect with others.